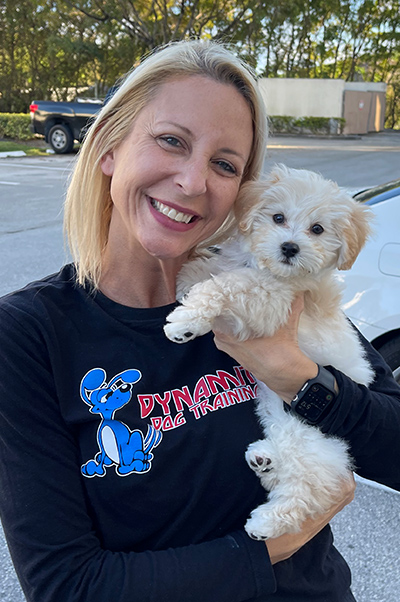 Jamie Diaz has been passionately training dogs for over 15 years using strictly positive reinforcement/force free methods. She is a certified Dog Trainer with a CPDT-KA certification and is licensed under Victoria Stilwell. As part of Victoria Stilwell's Positive Dog Training Team, Jamie is an ambassador for force free methods and serves as a mentor to aspiring force free trainers around the country.
She is also a certified K9 Nose work instructor, CGC evaluator, Trick Dog Certified Trainer, and is working on case studies for the Treat/Retreat Certification that focuses on dog to people reactivity. Jamie works on helping dogs with aggression and reactivity issues to both people and dogs. Jamie and the company will take dogs from problem puppy behaviors, through Service Dog Training. The continued growth to the business is a compliment to the success in training.
Jamie also owns Lucky Dog Training Club in Jupiter, which sits on an acre with an amazing agility field and facility. We have something for everyone, and Jamie and the team will guide you in the right direction!
Jamie trains at our Deerfield Beach, Delray Beach, and Jupiter locations.
Kelly Evans
Facility Manager, Jupiter
Kelly Evans is a Certified Pet Nutritionist who studied at Colorado State and Holly & Hugo-an online accredited University. She has been practicing Pet Nutrition for 13 years. Her love for animals started very young. She was the kid who would rescue stray cats and dogs and hide them in her room-saving all of her dinner to feed them without her parents knowing...for at least a little bit anyway.
Her grandfather owned kennels in Hialeah where she observed the love her "Poppy" had for the greyhounds. She couldn't wait to assist him in feeding them or sitting in their crates playing with the dogs.Her father started the K9 unit for Miami PD in the 70's where she grew up with German Shepherds trained in German.. Her parents always thought she would be a veterinarian. In fact some people may recognize her from VCA where she worked back in 2014 in Coconut Creek or Koha where she was their staff Pet Nutritionist. In fact she found her passion for Pet Nutrition when she worked at Pawsch a free pet delivery service specializing in holistic dog food. Kelly advised customers on what food to feed their pets. Pawsch closed their doors in 2011. Seeing a niche market Kelly and her former husband decided to open their own Holistic Pet Store-The Paw Depot in Boca Raton.
In October of 2021 ,Kelly joined Dynamite Delray Beach as Store Manager and then went on to become the Facility Manager for Lucky Dog Training Center in Jupiter, FL.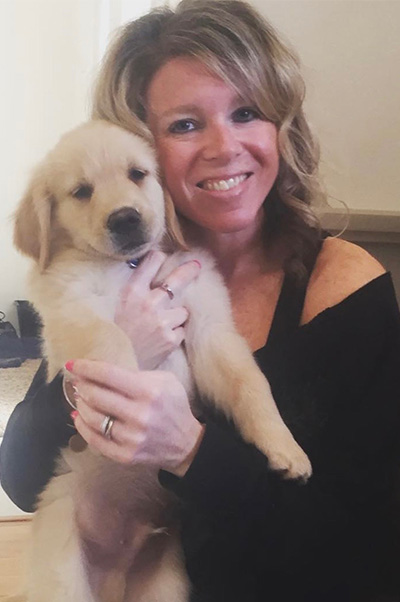 Kelly joined the Dynamite Team in February of 2021. After running preschools for over 15 years, she decided it was time for a change. Kelly has always had a true love for dogs and even had the pleasure of breeding boxers. She is in our customer service department and finds great joy in speaking with pet owners and helping them set up a plan to achieve the goals for their dogs!
Kristen Hennessey
Director of Day Training
Kristen Hennessy graduated from Victoria Stilwell Academy for dog training and behavior. She has been been working here for years and loves the idea of group obedience. She is a certified AKC CGC evaluated.
Her main interest is reactivity and has a German Shepard of her own. Kristen started off as a handler and is now one of our head trainers at the Deerfield Beach and Delray Beach locations.
Toni joined Dynamite Dog Training in 2021, bringing with her over 35 years of Dog Training experience. Toni specializes in Private sessions, Public group sessions, Basic through Advanced Obedience and Service Dog Training.
Prior to joining us, Toni worked for one of the Country's largest Rescue Organizations in their Veteran's PTSD Program, training Service Dogs and their Veteran Owner, as well as Managing the Adoption Unit. She was also a Level 3 Trainer for a Major Dog Training Corporation.
Toni is a Certified AKC Canine Good Citizen Evaluator, AKC Star Puppy Test Administrator and AKC Community Canine Evaluator and continues her education by attending Seminars, networking with top rated Trainers and partaking in hands-on experience with many different breeds with unique challenges.
Toni trains at our Delray Beach and Jupiter locations.
Amanda Guzman
Professional Dog Trainer
Amanda Guzman relocated from Chicago, IL after graduating from the Victoria Stilwell Academy for Dog Training & Behavior to join the Dynamite Dog Training team.
She is a certified AKC CGC evaluator. She adopted her dog Asher and is currently training him to be her ESA (Emotional Support Animal). Asher's favorite part of the day is coming to work with Amanda and making canine friends.
Amanda trains between our Deerfield Beach and Delray Beach locations.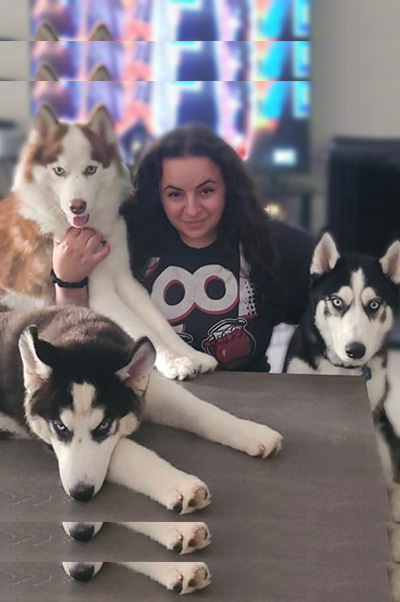 Samantha Mayta love for dogs started when she was just a little girl with her dad being a show dog breeder for English mastiffs. She pretty much grew up with 16 other puppies in the house! She has owned and trained breeds ranging from little Malteses to Doberman Pinschers and now has her pack of Siberian Huskies. After leaving the banking industry, she pursued her passion for dog training privately three years ago and worked a short while for a major retail store.
She loves to watch young puppies learn their ABC's, rescue dogs learn to trust again, and nervous pups gain their confidence to tackle the world! Samantha has been a part of the Dynamite family for a year training between the Delray and Jupiter locations as a day trainer as well as teaching obedience classes. Whether you're looking for obedience training or learning fun tricks, Samantha can't wait to meet your pup!
Samantha trains at our Delray Beach and Jupiter locations.
Amanda Kreiner
Director of Therapy and Service Dog Programs
Professional Dog Trainer
Amanda Kreiner joined Dynamite Dog Training in 2022, bringing an exciting background of marine mammal training and canine rehabilitation. Amanda specializes in service dog training, obedience training.
Before joining our team, Amanda worked at an animal hospital where she specialized in canine rehabilitation and received her certification as a Certified Canine Rehabilitation Assistant, CCRA. Prior to working with canines, Amanda worked alongside dolphins and whales for 5 years as marine mammal trainer. She graduated from Arizona State with a Bachelor's degree in Psychology and is a certified AKC Canine Good Citizen evaluator.
For Amanda, training dogs is more than just a career. It's an opportunity to make a difference in animals and their humans' lives. Amanda is currently the Director of our Service and Therapy dog programs where she and the team are working together with your four-legged friends to help brighten someone's day in any way we can!