Dynamite Dog Training
Professional Dog Trainers
Dynamite Dog Training has grown to three beautiful air conditioned facilities. While all very different, each offer a unique space for your dogs to train. While strictly using Positive Reinforcement methods we have grown to be the largest training company in South Florida. We welcome you to call us today and take a tour! Come see what everyone is talking about!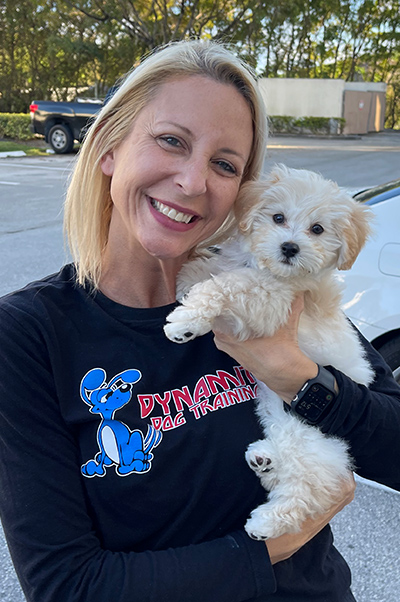 Jamie Diaz has been passionately training dogs for over 15 years using strictly positive reinforcement/force free methods. She is a certified Dog Trainer with a CPDT-KA certification and is licensed under Victoria Stilwell. As part of Victoria Stilwell's Positive Dog Training Team, Jamie is an ambassador for force free methods and serves as a mentor to aspiring force free trainers around the country.
She is also a certified K9 Nose work instructor, CGC evaluator, Trick Dog Certified Trainer, and is working on case studies for the Treat/Retreat Certification that focuses on dog to people reactivity. Jamie works on helping dogs with aggression and reactivity issues to both people and dogs. Jamie and the company will take dogs from problem puppy behaviors, through Service Dog Training. The continued growth to the business is a compliment to the success in training.
Jamie also owns Lucky Dog Training Club in Jupiter, which sits on an acre with an amazing agility field and facility. We have something for everyone, and Jamie and the team will guide you in the right direction!
Jamie trains at our Deerfield Beach, Delray Beach, and Jupiter locations.